Closer
Stage Play
by Patrick Marber
Directed by Sally Ann Cone
Produced by Coup de Theatre
October 2007

Four lives intertwine over the course of four and a half years in this densely plotted, stinging look at modern love and betrayal in a series of pass-the-lover scenes in which this quartet struggle to find intimacy but can't seem to get closer.
There is an excellent 2004 movie of the play with Clive Owen as Larry, along with Natalie Portman, Jude Law, and Julia Roberts.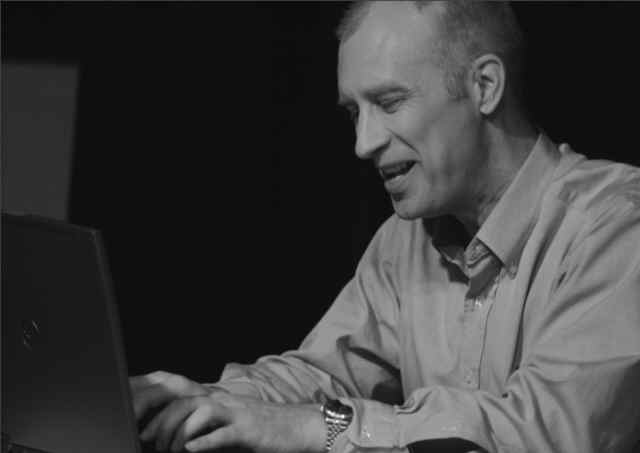 "Troy Halverson's Larry was funny and vivid,
the best performance of the show"

- Brad Rudy
Metropolitan Atlanta
Theatre (MAT) Review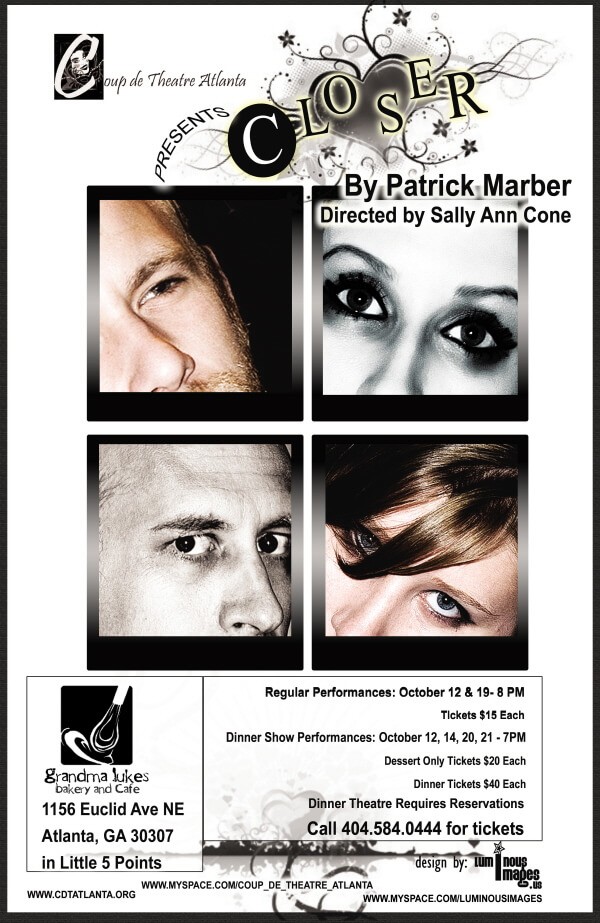 CAST:
LARRY: Troy Halverson
ANNA: Jillian Fratkin
DAN: Matthew Wolff
ALICE: Jessie Weintraub


CREW:
DIRECTOR: Sally Anne Cone
STAGE MANAGER: Elissa Brown
LIGHTS: Kenny Cone
CARPENTER: Matthew Wolff

Program Notes
Mathew Wolff - Dan

Although Closer is only Mathew Wolff's second theatre production, he is no stranger to bearing his soul in front of an audience. Mathew is a transplant from the comedy stage, working as a stand-up for nearly five years. Mathew was drawn to this piece of material because of its darker content, and its similarities to his own tragic joke of a love life.

Troy Halverson - Larry

Troy Halverson has performed community theatre in Atlanta since the 90's. Including shows at Drama Tech and Morehouse. For the last two years he has been a performer in Relapse Theatre's Improv Comedy Ensemble, performing most Thursday and Friday nights. Thanks to Sally Ann Cone, he has been greatly enjoying (perhaps a little too much) this opportunity to swear on stage with abandon.

Jessie Weintraub - Anna

Jessie Weintraub is a native of Atlanta. She attended Woodward Academy for her secondary education where she first discovered theater. Under the direction of Hylan Scott and the late Linda Wise, she was encouraged to further pursue theater in Dallas, Texas at Southern Methodist University, where she was a member of their theater program. There she learned the behind the scenes action and the intensity of a student produced basement show. She is currently continuing her undergraduate education at Georgia State University and planning events part-time. She most recently was featured in Coup de Theatre Atlanta's production of Wait!

Jillian Fratkin - Alice

Jillian Fratkin is currently celebrating living/working in Atlanta for a little over a year. In that time she has worked with Push Push Theatre, Dailies Film projects, eyedrum, Collective Works, Twin Head Theatre and Onstage Atlanta. On Saturday evenings you can catch Jillian performing Long-Form Improv with the JaCKPie Theatre at Relapse in midtown ( www.jackpie.com). Previous credits also include two mainstage shows at the Hangar Theatre in Ithaca, New York.

Sally Ann Cone - Director

Sally Ann Cone is the Co-Founder and Managing Director of Coup De Theatre Atlanta. She is mainly an actress, however she enjoys being involved with all aspects of the stage. This is Sally's Directorial Debut. She has much experience Assistant Directing and Stage Managing, but she couldn't be more thrilled about this show Closer, by Patrick Marber. She is incredibly blown away by the cast she has created, and she looks forward to Opening night.

Elissa Brown - Stage Manager

Elissa Brown has been involved in the theatre realm for eleven years. Most of those years have been spent dancing ballet, jazz, tap, lyrical, musical theatre, and pointe. She has experience running the office at North Ga Dance and Music Factory, and has worked for them back stage for four years consecutively. In her most recent involvement with Coup De Theatre Atlanta she received the leading role of Wendy Burger in Wait!. She is ecstatic about receiving the opportunity to work as Stage Manager in this production, and looks forward to continuing her involvement with Coup De Theatre Atlanta.