Atheist Dinner Party
Short Film
Satire, Dark Comedy

Directed by Byron Conrad Erwin
Written by Justin Craig
Produced by Kevin L. Powers
2014
| | |
| --- | --- |
| Cast | |
| Andrew Belemy | WOODY |
| Brent Brooks | JEHOVA'S WITNESS |
| Lilian Brooks | KEILA |
| Ben Bryant | GABE |
| Mary Cecil | JEANETTE |
| Troy Halverson | CONNOR |
| Devin Miller | CHARLIE |
| Lynn McArthur | BEL |

| | |
| --- | --- |
| Crew | |
| Byron Conrad Erwin | DP |
| Camron Riley | PA |
| Arjun Banga | Location Sound |
| Justin Craig | Art Direction |
| Cesear Aguire | PA and Still Photography |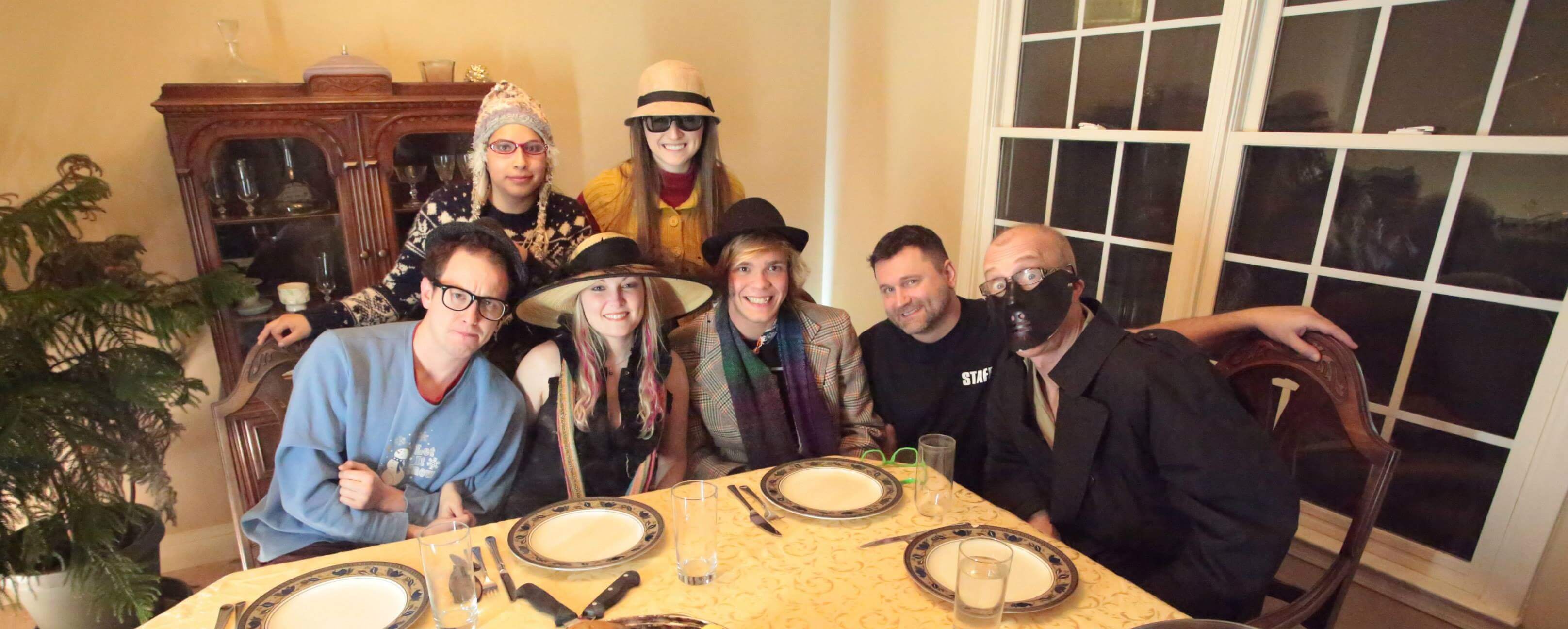 The Cast of "Atheist Dinner Party"
Andrew, Lily, Lynn, Mary, Devin, Brent, Troy
"We don't believe in food either"
Producer Notes
January 8, 2014 at 5:34pm

I'd like to take a few moments to thank the cast and crew of the film "Atheist Dinner Party." This was not an easy film to get off the ground (the title is in everything as they say) and I'd like to explain the little road that this film took to finally getting produced.
The script was written by the very imaginative Justin Craig who unveiled this screenplay at a Blank Page Screenwriter's Group meeting over a year ago. I was in the audience and immediately got the tone and satire of the story, but not many other people did. Whereas I wanted to be a part of the production and get this script produced, no one else wanted to approach the material deeming it to risqué and controversial. For those of you who know nothing about it story it is about a group of Atheist who get together for a Dinner party and all manner of taboos are broken, mangled, and torn asunder. In the original script there were vampires, cooked babies, burning Bibles, etc. You name it and Craig threw it in there all under the subtext of a story about people tearing down the walls of "polite" society and exposing the "truth" as filtered to the obscure lens of a bunch of Atheist. Regardless, the script was drop down funny and something I wanted to be a part of. Unfortunately, no one else wanted to come near the material.
Director Byron C. Erwin was the first person I approached to direct the film. I knew from watching his previous films "Buttons" and "Two-Time" and "Mr. Snuggles" that he would get the humor in the film and would be able to give his stamp of approval. Unfortunately, he didn't want to touch the material. Doing such a film could be tantamount to career suicide. After he turned me down I approached a couple other people whom I thought might be a good fit but even I was hesitant; it was all a moot point as none of them wanted to approach the production either.
For several months I couldn't figure out why no one could see what I saw in Craig's imaginative script. I likened it to an episode of "South Park" or "Robot Chicken" or "Family Guy" but I couldn't find anyone to see past the "Atheist" in the title of the screenplay. So, I decided that if I couldn't find anyone to direct the film then I would have to do so myself. Unfortunately, I had my hands full for most of 2013 putting together the first year of the Gwinnett Center Int'l Film Festival and "Atheist Dinner Party" fell through the cracks almost forgotten.
Luckily for Craig and I that later in 2013 after the dust had settled Erwin had an epiphany about the story. Something in the past year had changed his hard "No" about directing the film to a "Maybe" as long as a few changes were made to the script. This was a great relief to me as I was still feeling jet-lagged from the film festival despite wanting to get going on another production (I wasn't sure at the time that I was ready to direct another film yet much less this satire). Craig re-wrote the script to Erwin's specs most notably getting rid of all the supernatural elements (i.e. vampires) and making it more realistic despite the absurd tone of the piece.
The changes that Craig and Erwin came up with were just what the film needed. A less supernatural approach is what the piece needed for audiences to be fully vested in the absurd satire and characters. With a shooting script in hand we were in full production mode with Erwin as director/cinematographer/editor, Craig as writer/art director, and me as producer (and we all generally helped whatever else needed to be done).
Casting was a nightmare at first as we combed through actors, many of whom didn't want to go near the material. Through several mishaps that played to the films advantage, we ended up with an amazing cast which included Mary Cecil, Lynn McArthur, Lilian Brooks, Andrew Bellamy, Ben Bryant, Troy Halverson, Devin Miller, and Brent Brooks. We also had a few trusted friends along for crew such as Arjun Banga (On Location Sound), Camron Riley (Production Assistant), Cesar Aguire (Production Assistant and Still Photography) and Ron McLellen as our special FX make up artist. We may have had a small cast and crew but it was one hell of a dedicated and talented group of people who saw the immense possibilities of what "Atheist Dinner Party" could be.
In addition to spending a year in production limbo the film was marked with several "almost" disasters that derailed us. Several actors dropped out, we lost power on our original production day shutting us down, there were out of date 2-liter drinks, location malfunctions, electrical issues and more. You name it and it probably happened on our set leading some to believe that it was extreme bad luck or cursed. As a group we weathered through the constant changes and made due and in the end produced one hell of a great little film.
As "Atheist Dinner Party" enters into post production I look back upon all that the cast and crew had to endure and wonder just how we all made it through without someone REALLY dying or any of us killing one another. Then I realize…it's because it was one hell of a great film to shoot. Despite all the screw-ups and mishaps everything happens for a reason as we ended up with the perfect cast and the perfect crew and (hopefully) the perfect little film. None of this could have been possible without Craig's crazy and ambitious script or Erwin's direction or our great cast & crew who finally "got it" like no one else ever did.
So, in parting, Thank You everyone for coming out and being a part of "Atheist Dinner Party" and making it a reality (that I'm sure Craig never thought possible). You only get to experience one of these types of parties in a lifetime and I'm glad you all were able to come, drink, and be an Atheist if for only a couple days!
Kevin L. Powers,
Producer, "Atheist Dinner Party"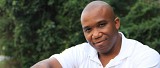 "Why does our Atheist's Dinner Party taste so irresistibly delicious? For starters, we use only baby tender slivers of colorful characters, the plumpest and most tender personalities ever raised in the suburbs. Then we lovingly bake these premium folk into scrumptious fluffy morsels of gluten-free gourmet goodness. And for the all-important final touch, performed in complete privacy, we lightly dress them in non-hydrogenated virgin olive oil. The result is the most irresistibly delicious short film you ever enjoyed - with 70% less fat than all other movies. Taste for yourself. Once you've tried our pure and natural Atheist's Dinner Party, you'll barely be able to contain your delight. Why settle for the ordinary when you can experience the extraordinary? Atheist's Dinner Party now serves up to 8.""