Public Enemy #1
Short Film
Log Line
When two bumbling cops take off in pursuit of their vaguely described suspect, they uncover a conspiracy that points all the way to the white house.
Cast
Keith Brooks, Dorian Santiago, Secret Harris, Chris Burns, Troy Halverson, B.J. Winfrey, Raj Kala, Todd Anthony Manaigo, Cameron Chester, Madelin Hatter, Drew Giles, Zack Collins
The 2015 season of ABFF Independent will open with a screening of our little film Public Enemy #1. The program showcases some of the best independent shorts and documentaries from emerging African-American artists. Monday, August 3rd at 9pm ET on Aspire.tv.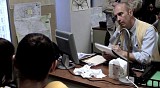 First time working with director Anthony McHie. A ten-minute comedy that rips on police dramas and race tropes. I've got an under-five role playing an absurdly bigoted police sketch artist. Small world: the cast includes Keith Brooks & Dorian Santiago. Keith also appears with me in Mr. Lockjaw and Dorian Santiago worked on the Upyri.