Definition 6
Technical Project Manager
Feb 2011 - July 2012
Award-winning Definition 6 is a digital marketing agency in Atlanta with a great line-up of clients including La Quinta, HBO, and Facebook. Their work for The Coca-Cola Company includes one of my favorite viral shorts, The Happiness Machine. Their portfolio demo reel is pretty sweet too. Their "unified marketing" approach is a strategy to improve marketing effectiveness by coordinating messaging across all the marketing delivery channels - web, TV, social, and traditional marketing.
My focus was integrating the technical components of solutions to improve the brand experiences of their customers. That included SDLC management of their custom applications -- web, mobile, IVR, social media, customer loyalty -- and tying all that into back-end systems and to feed marketing systems.
Something unique about my interview process at D6: I was given homework. I was asked to create a web presence project plan for a fictitious band called Andy and the Androids. The Director of Software Development subsequently shared my doc with the entire software development team at D6 as a best practice template.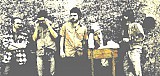 I took this pic my first week on the job at dog-friendly D6. Gizmo was one of the several breeds running around Defintion 6 when I started. The photo was later used by the AJC when they reported on Top Workplaces in 2011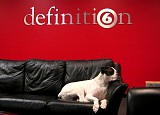 Pull-a-Part (PullAPart.com ) was my key client account at Definition 6. I managed projects to create and enhance their business solutions, including their integrated inventory system, email marketing campaigns, SMS/IVR and mobile solutions, and systems providing real time inventory lookup, make-model part interchange, and pricing.
A major initiative was integrating a new "VIP" customer loyalty feature into their web site, mobile app, and back-end systems. Supporting that was a team of 14 that included developers on- and off-shore, network engineers, help desk support, a social media expert, account marketing, and the creative folks who authored the graphic artwork and copy.