News
Aug
Jul
Jun
July 2017
Screenings and Distribution
Mr Lockjaw at the Southern Shorts Awards
The prologue for the Mr. Lockjaw series was an award winner at the Southern Shorts Awards on July 15th. Wish I could have been there but I was on an all night shoot.
Restricted Diet - Hotlanta Horror
My take on a racist vampire can be seen in Restricted Diet, a comedy screening this month at the Horror Films in Hotlanta, a shorts film festival, July 17th. Happy that both me and Pamela Ricardo were nominated for best acting; even happier that Pamela took home the win.
Herman Jones - Horror Series
I'll be putting in a couple days on the set of Herman Jones Web Series playing an unscrupulous character. Easy day on the 8th; all-night shoot on the 15th. My character was lucky to excape the bloodbath (and I was wrapped at before 4 AM); other unfortunate souls were fighting for their lives as the sun came up.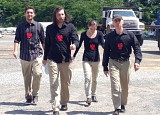 Filmed a short spot, playing an anchor man, for the folks behind last year's Guest Room.
Haven's End - Horror Feature