"blackhats"
Feature Film
Action Drama
Reel One Entertainment and Supremacy Films
Director: LaRon Austin
Writers: Martin L. Kelley, Eddie Davis Singleton
Starring: Errol Sadler, Doris Morgado, Ted Huckabee
Principal Photography: 2012
Release: 2015

3V3RYON3 !S @ R!SK
Description
A Fugitive Recovery Agent (Errol Sadler) has an easy job working white-collar crime. Then a co-worker (Doris Morgado) receives a disturbing phone call from her brother that his life is in imminent danger from a hackers group called Pangea. Together they begin a search that becomes a wild ride of violence and plot twists between them, Pangea factions, and a series of cyber attacks that threaten to bring down the U.S. economy.

I had a one-day shoot for this: an intense scene, opposite Sadler, playing a suicidal software developer with a grenade. It landed me my 12th IMDb credit.




In September 2014 promotional materials came out for the movie blackhat, a thematically similar movie with eponymous — and lower-case! — title. Graphics and typography on their web site showed a remarkable similarity to those in our 2-year-old trailer.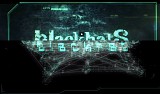 Word must have gotten back to them: before year-end the blackhat site changed significantly and no longer used the doppleganger graphics. The $70MM movie opened Jan '15, but had only $4MM opening weekend; Rotten Tomatos noted it was "thematically timely but dramatically inert."