A Midsummer's Night Dream
Stage Play
Written by William Shakespeare
Directed by Greg Abbott
Produced by Drama Tech Theatre

1989

Concept: all the royalty in formal evening wear, guys in tuxedos, woman in gowns. White stage, white scrim, white column. The downside was that the white floor required re-paintiing every weekend to cover the scuff marks from formal shoes.


CAST:


Phillip Anderson - Quince
Jenifer Burge - Titania
Jo Claire Burkett - Helena
Dave Cater - Puck
Chris Cullen - Oberon/Philostrate
Janice Day - Mustardseed
Don DeBord - Lysander
Kathy Field - Cobweb
Michelle Geiger - Hermia
Troy Halverson - Theseus
Kristi Hinckley - Peaseblossom
Eddie Maise - Egeus
Steve Meeks - Starveling
Anita Redic - Hippolyta
Jimmy Rose - Snug
Lorraine Allen - Moth
Steven Sams - Flute
Scott St. Germain - Demetrius
John Tweel - Snout
Jack Winnick - Bottom


CREW:


Greg Abbott - Director
Pete Thomas - Stage Manager
Marietta Barral - Assistant Stage Manager
Eric Krueger - Master Carpenter
Dan Dougherty - Carpenter
Tharen Debold - Lighting Designer
Glen Gordon - Sound Designer
Wes Schrader - Makeup Crewchief
Chris Jordan - Publicity Crew Chief
Trevor Markley - House Manager
Steven Sams - Composer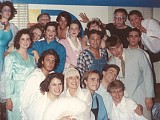 Cast photo from the green room and some notes