News
Jan
Dec
Nov
December 2017
Screenings and Distribution
Restricted Diet - Asia SE Short Film Festival
The festival run for Restricted Diet continued at the South East Asia Short Film Festival in Viet Nam, where we picked up a win for horror short. That's its 2nd international festival; who knew racist vampires could be so popular?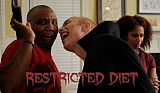 Friends of Drama Tech - Acting Panel
I got a kick out of being on a panel at Drama Tech to talk about the acting profession. The event reminded me of two things: 1) The Q&A brought back memories of juggling my time between grad school classes, DT rehearsals, and my job at The Coca‑Cola Company. Got to share with the students my circuitous path between technology, marketing, and entertainment, and share some perspective on how Drama Tech helped. 2) I am grateful I no longer have to take finals like they do this week. Thanks to Tamil Periasamy and Skyler Westlake for getting in touch with me.