Tartuffe
Stage Play
Written by Jean Babtiste Moliére
Translated by Richard Wilbur
Directed by Peg Shelton
Produced by Drama Tech
March 1990
In this translation the 18th century French classic about a lecherous monk, I played the family elder Cléante. Hated the Reformation-era costume but loved a multi-page monologue that included:
...just as there is nothing I more revere
Than a soul whose faith is steadfast and sincere...
So there is nothing I find more base
Than specious piety's dishonest face

It was a monologue that continued on for three pages of rhyming couplets, boring to sleep his brother Orgon (played by Jimmy Rose) ― a mixed blessing of stage time while being the butt of the joke.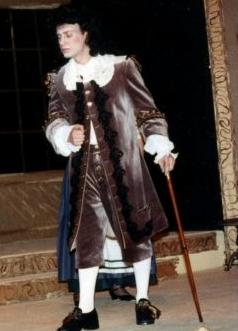 CAST:
Gerry Allen - M. Loyal / Officer
Janice Day - Flipote
Sheila Coker - Madame Pernelle
Troy Halverson - Cleante
David Jelinek - Damis
Cathy Kallfelz - Elmire
Courtney Roberts - Mariane
Jimmy Rose - Orgon
Lorraine Allen - Dorine
Wes Schrader - Tartuffe
John Tweel - Valere

CREW:
Margaret 'Peg' Shelton - Director
Buck Newman, Jr. - Style Coach
C Edward 'Eddie' Maise - Stage Manager
Elizabeth Ann 'Sann' McKee - Assistant Stage Manager
Travis Halbrook - Assistant Stage Manager
Suzanne Tilleman - Assistant Stage Manager
Roy Magee, III - Set Designer
Dan Dougherty - Master Carpenter
Tharen Debold - Lighting Designer
Edward Hefter - Sound Crew Chief
Judy Winograd - Costume Consultant
Chris Andrews - House Manager