Horror Hotel
Web Series
Concept
The Horror Hotel web series is inspired by the old Twilight Zone and Alfred Hitchcock Presents programs. Different shorts stories with different casts and crews for each episode all take place at the same run-down motor-court hotel.
Season 2 Trailer

Notice: Undefined variable: href2 in C:\Data\TroyHalverson.com\Dev\code\index-functions.php on line 744

Notice: Undefined variable: options in C:\Data\TroyHalverson.com\Dev\code\index-functions.php on line 744

Distribution
Season 1 of the anthology released in summer 2013, streaming on Direct TV, Hulu, U-verse, xfinity, MSN Video, Amazon Prime, and other channels. I appear in the Invader episode, which played at Raindance in 2014.
Season 2 began production in 2014 and premiered at The Plaza Theatre in Atlanta in 2015. I appear in the Coma Girl episode. The entire season was released VOD in July 2016 as Horror Hotel: The Movie, available on Amazon Prime, iTunes, Vudu, and Google Play.

Production started on Season 3 in 2016.
Season 2 - Coma Girl
In the Coma Girl episode, a nursing home night watchman (played by yours truly) falls in love with a comatose woman (Amber Seidel). The short film ends badly for him with some fight choreography with her husband (Neil Ramsay). Marvin sneaks comatose Connie out of the Convalescent Center for a romantic date but he must pay off Bob, the surly night maintenance man, to help him spirit the dozing woman out of the building.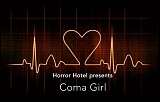 Season 1 - Invader
The is the 4th episode of Horror Hotel and is an old-school sci-fi Invader story. It's about a writer (played by Rodney Silvers) who checks into a motel to work on his latest science fiction novel. When a power outage on a hot summer night drives guests outdoors, nosey Helen Kravitz (Susan Moss) and Joe Wood (Troy Halverson) overhear Silvers in his room speaking of invading the earth.
12-03-2015:
I had such a blast last night at the Horror Hotel season 2 premiere! Last night was great and everything was perfect. I couldn't have wished for a better screening. I'm not sure I could ever express enough gratitude to everyone who came out to see my show. I only ever wanted to just be a part of making films because I love movies and TV so much. It's even better when others can enjoy watching it.
To my beautiful actors, you guys are the faces of Horror Hotel. You do something I could never do (trust me, I've tried and it was pretty dreadful). It's no surprise that the number one thing I hear is how great the cast is. It means the World to me how much you guys support us!
To the crew, it takes a village to make a show like this (over 100 people just for Horror Hotel). I literally can't do it by myself and I am so fortunate to have the most talented people I know helping me.
Of course, as many of you know, my parents are a huge driving force behind the show. Any success I've seen has been because of my Mom's management of the series and I'd have nothing to film if my Dad didn't write brilliant stories.
To our wonderful fans, you guys keep us doing what we do. I'm so grateful that anyone wants to watch my show at all. Because you guys keep watching, we get to continue making this wonderful series. Thank you all!
Ricky Hess