Relapse LLC
General Manager
Manager
I started with this theatre as a student in 2005. That lead to weekly performances and being an occasional carpenter, instructor, and director. By early 2008 I was working as the general business manager, booking agent, and web master.

At its peak, over a dozen performance troupes called Relapse home, many of which were comprised of graduates of the JaCKPie acting school that was in residence. It was a busy place with a great vibe. Into that mix I scheduled auditions, rehearsals, and the renting the location for short and feature film shoots. It was that connection that eventually lead me to working in films.


In 2010 we celebrated the completion a 6-month facility renovation, adding a point-of-sales system, new bathrooms, handicap access, and a new fire safety system. And, on November 19th, we officially became an 18-and-over club with the opening of a full bar. Coincidentally (but fittingly, I think) that was a night that my improv troupe of five years, 2 Girls 3 Eyes, was performing.

By 2011 the production schedule boasted a dozen live shows every week, including improv comedy, stand-up comedy, plus special events throughout the month. Performance spaces included a 24-seat cinema which I designed and mostly built, a 60-seat black-box studio, a 1700 s.f. cabaret and bar, and a 3000 s.f. ballroom for special events. I eventually left in early 2011, taking my experiences to a sweet job at marketing agency. Relapse kept on for almost 2 more years until shutting its doors in November 2012.

Performer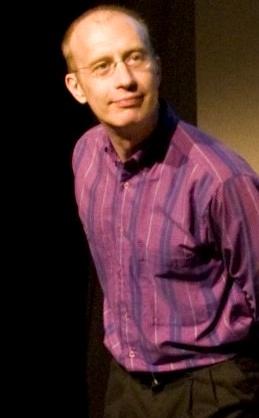 I had the pleasure of performing in a lot of shows at Relapse. I was regularly among the top three most frequent performers at Relapse for years, often performing a dozen improv shows every month, plus the occasional sketch show, video shoot, and hosting other shows. I was founding member of the original Relapse Players in 2005 and the subsequent 2 Girls 3 Eyes improv troupe that performed on Friday nights at 9:30 for over four years and, for most of 2010, shows at 8:00 and 10:30. Altogether I performed in something north of over 240 shows with that troupe. I was also a regular player in the Tuesday night Richard Kickers which mixed improvisors from around town. From sketch shows that started in 2006 to the 2010 "improvised novel" called Writers Block for which I was the improvising narrator, I really got to exercise my chops on a variety of improv formats. I think my favorites were in 2010 and 2011, when I was in two of the four Jackpie main stage troupes that did the Saturdays at 8 pm slot, performing in Improv: The Musical! and in First Cut, where we improvised action movies and Westerns.

In addition to those regularly scheduled shows, I made guest appearances in other Relapse productions: Cineprov, Sideshow, and several JaCKPie shows, including Improv Monster, Revolver, Smashup, and Insomniac, or hosting, like when Relapse was the spot for the S.E. Chicago Improv Festival College Improv Tournament.

Truly a great time and a great experience.