No Experience Necessary
Short Film
NoExperience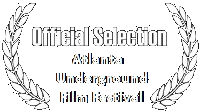 Written and Directed by Brent Brooks
Casting by Charisma Studios
Produced by Blank Stage Productions
Score by Aaron Akins
2010, 17 minutes

Tag Line
A part girls are dying to get

Log Line
It's a killer audition for a too-eager actress who answers a local online movie casting call. Nervous jitters turn to deperate fear when she finds herself caught in the world of a twisted director. A dark parable for actors and the risks of blind casting calls.

Synopsis
Actors Beware: Open Casting Call! Fessin (Troy Halverson) is a serial killer posing as a movie director who publishes fake film auditions to lure impressionable young girls to his dark lair. This is where he purges years of internal pain and torment.

Casey (Karli Garrett Brooks), a gullible young actress with no prior acting experience, is eager to impress and start her career with an audition she discovers online.


Connections
Whitney Sullins, Brent Brooks, and I are also in an AIA student short, Oversight (2010)
Candace Mabry directed me in Restricted Diet (2014), a short about a finicky vamp. Also with makup with Renonda Anderson.

CAST

Casey: Karli G. Brooks
Fessin: Troy Halverson
Alexis: Joy-Marie Finnell
David: Andrew McCllure
Mary: Jennifer Mercurio
Sarah: Candace Mabry
Traci: Erica Vanessa Lewis
Janice: Whitney Sullins
Husky: Husky Cannis



CREW

Produced By Karli G. Brooks
AD & sound: Kevin L. Powers
DP & cinematography: Randy Stewart
Script Super: Gina Partee
Boom Operator: Adam Mines
Gaffer: Troy Moore
Key Grip: Allen Robinson
Make-up: Renonda Anderson
Grip: Russell Kozlosky
Wardrobe: Jennifer Mercurio
Still Photographer: Thomas James Spravka


We had the chance to interview actor Troy Halverson who stars and plays the villain in "No Experience Necessary". Troy's performance in this short is captivating to say the least.

Hey Troy, before we go into to all the horror stuff, tell us about your day job and the exciting news about Relapse Theater...
Sure, yeah — I am the general manager for Relapse Theatre. We're a comedy theater in midtown Atlanta. I handle bookings, maintaining the web presence, and lots of production odds and ends. Check us out at Relapse Theatre dot com — we have at least nine shows a week.
I also get in a lot of performance time at Relapse — like twelve shows a month. Basically, unless I'm filming something like "No Experience Necessary" you can find me at Relapse either performing, rehearsing, or directing.
The exciting news: This summer we completed a big renovation project to allow us to re-open as a nightclub. Now everything has a fresh coat of paint. We have added five new bathrooms, added handicap access, and a kick-ass fire safety system. The really neat bi is this gorgeous, new, custom-made, dark oak BAR, right off our cabaret space. All of our shows instantly became funnier with the addition of alcohol!.
It's simply an awesome place to perform, or enjoy a night of comedy.
Your performance in NEN was incredible, I am sure the producers were thrilled you came to the audition, what drew your attention to the project?
Are you kidding? Villains are always such wonderful characters to play, almost always more interesting than goodie-two-shoes heroes. Add to that the dark psycho-dramatic layers and it's just irresistible. I had a blast just doing the audition.
You had the chance to work with Karli and Brent Brooks, What was the rehearsal process like for you and working with them in general?
Well, Brent is indefatigable -- and always so friggin' enthusiastic. Like a Cocker Spanniel. That was great for getting though those 12 and 15 hour day shoots but I swear if he gave me that attitude before my morning coffee I'd clobber him.
And thenp our the hot coffee on him.
Karli is a sweat heart. God bless her for suffering me playing sick-o all over her. Jeesus, I creeped myself out sometimes.
You nailed your performance by combing just the right elements of desperation and power how did you prepare for the role, anything come easy to you, anything challenging... From your perspective, what were some of your experiences on set?
Well, Thanksgiving is coming up again — any number of family get-togethers could have been inspiration for my sadistic mass murderer.
But, no, that wasn't my inspiration.
I simply drew from my childhood. You know, like actual events.
So most of it actually came easier — dropping into the character. Getting out took longer. Two hours after rehearsal or filming I found myself still stuttering like a psycho.
I'm afraid that vocal pattern will come back to haunt me — I'm sure it will be the first symptom of me having Alzheimers.
Hopefully, I'll be too old and frail by then to actually hurt someone!
The film speaks to the voice in many of us when it comes to fame and all out quest for it. As a professional actor, what free advice can you give to the ones starting out?
Wow. Uh, well, do it for the love of doing it. Then, no matter what, acting will enrich your life. If you're an exceptional actor, you might even make a little coin. The Fame Seekers I've known either became jaded, pissy, or just plain insane. None of them were happy.
What do you hope will come out of having worked on "No Experience Necessary"?
You know, it has already met my original goals, my original expectations: I got to play with a bunch of people who actually knew what they were doing and enjoyed doing; I got to portray a meaty character. And the end product is something I am proud of.
Icing on the cake: It would be great to see it accepted into some film festivals so the cast and crew would get exposure, more work. I would also kill to do a feature length treatment of the story; maybe some festival exposure will rustle up investors interested in producing that.
Anything we missed? When can we see you perform next?
Check out my comedy troupe, 2 Girls 3 Eyes at Relapse, shows at 8:00 and 10:30 every Friday. It's a bawdy party, with raw-dog improv — you say it, we play it.
For a more theatrical experience, I have some long-form improv shows coming up:
· On December 1st at 8pm I'll be performing in Writers Block where we improvise a story in the style of author Chuck Palahnuik. He is the author of Fight Club, Choke, and Guts. At least one death guaranteed.
· On December 4th at 9:30 I'll be in Improvised Movie, which is part of the JaCKPpie Theatre Workshop main stage program. In that we make up an old-fashioned Western based on a title from the audience. It usually ends with a chase scene and a shoot out that leaves most of the characters dead. Fessin would love it.
· December 11th at 8 pm I'm also in IMPROV! The Musical. Yeah, that's right, you can hear Fessin sing!